The Sabian Path
Part One: "The Man"
This page is a condensation of the chapter, "The Man," from "The Sabian Way"
by Jonas R. Mather.
MARC EDMUND JONES
An almost crass emphasis on materiality marked The World's Columbian Exposition in Chicago, 1893, but the celebration was by no means lacking in spiritual content. Metaphysical giants of the time such as Swami Vivekananda and D.T. Suzuki were much in evidence at the World's Parliament of Religion, one of a number of world congresses sponsored in conjunction with the fair.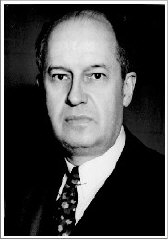 Dr. Marc Edmund Jones
(Oct. 1, 1888 - March 5, 1980)
"The key that unlocks the gates of the garden of mystical or eternal and self-sublimating expectations is the realization of the essential simplicity in all reality."
—Marc Edmund Jones
This yin-yang background had its effect, particularly on a small boy of 5 years, Marc Edmund Jones who examined exhibits of woods and precious stones with developing insight into sequence and relationship that was to mature over the more than ninety one years of his life into a key contribution to New Age perspective, a reformulation and highly functional utilitarian cabalism accompanying and derivative workable, livable philosophy — dynamic idealism.
"I was fascinated," said Jones, "with relations in sequence and particularly in two areas: One was precious stones, which varied in color and in value. The sequence in terms of preciousness puzzled me. Why were some more precious than others? Nobody explained. I had the same experience with varnished samples of differentkinds of woods. Some were more valuable than others. Here again was the same problem of sequence. So from the age of five on I had a major worry, a phenomenon that I call sequence."
Young Marc, The Cabalist, for so he would wish to be called in his final days, began his philosophical journey, entering the first grade at a chronologically appropriate age. Jones' background was of the Middle West of Main Street with few spiritual or metaphysical influences. He was born in St. Louis, Mo., on October 1, 1888, and spent his childhood and youth in Chicago. He described himself as a loner. Yet he indulged in the usual activities with children of his age, but seemed to have plenty of time alone to develop personal amusements of great complexity such as his own country complete with constitution and currency. His family neither encouraged nor discouraged his interests. The environment was casual, circumspect. Obedience to rules was expected, but for the time young Marc was given wide latitude.
He was strict with himself, demanded perfection in many things, once for instance planing a board down to nothing in trying to get its surface just right. Strangely, this attitude caused him to drop out of The John Dewey high school in 1907 when he found he had taken more of a course-load than his high standards would let him handle. Twenty-two years would pass before he resumed his formal education. Then his college of choice, Occidental, in Los Angeles, was church-oriented. Philosophy, his interest in sequence and a commitment to religion motivated his choice.
Jones finished at Occidental in June 1932 and immediately began studies at San Francisco Theological seminary in San Anselmo. He wrote his thesis, "Prophesy of Israel," and was graduated with a B.D. in 1934. His interest in experientialism and dynamic idealism, as well as practical economics, led Jones to Columbia University, placing him again under the influence of John Dewey's ideas. He matriculated in July, 1936.
As a student in the advanced school of education in 1938, he became a member of Phi Delta Kappa, educator's honor society. He was editor-in-chief of the teachers college student forum and, serendipitously, president of the philosophy club. The one-time dropout attained full academic redemption, a Ph.D. with his published dissertation in 1948 on George Sylvester Morris, dynamic idealist and John Dewey's mentor.
For most of his life Dr. Marc Edmund Jones earned his living as a minister, writer, lecturer and astrological counselor. He was self-sufficient and happy to be so, for it affirmed his conclusion that individuality mattered. His output as a writer was prodigious. Over the years a rough count, for some of his work — particularly as a ghost writer — went unrecorded, yields 73 film scenarios, 46 pieces of published short faction, 3,000 Sabian lessons averaging 1,200 words each, more than 45 articles in astrological publications and 17 books in the occult, astrological and philosophical disciplines.
Jones made a life-long Christian commitment at age 16. Yet his early years reveal an unlikely beginning for a clergyman. Jones' mother was Protestant and his father Catholic. "The agreement," said Marc, "was that we, my sister (Helen) and I were to be permitted to find our own way. There was no religion in the family. . . . So I drifted down 53rd Street and into the Presbyterian Church and was made welcome. Somehow I became utterly fascinated with what I found there, and I bought it. I made a life dedication to Christ. That's a step that I took at the time and from which I have never deviated even by half an inch at any time, in any fashion."
Further motivation came in 1921 when he served as executive head of the Sixth World's Christian Endeavor and 28th International Conference in New York City where he formed church ties that inspired greater dedication and ultimately a ministerial role in the 1930s. Upon completion of his studies at San Francisco Theological Seminary and ordination as a Presbyterian minister, he was installed as pastor in Esparto, Calif., on Sept. 14, 1934, a position he held until resigning in 1938.
The Cabalist
Jones' early life was touched mildly but peripherally by Christian Science and Theosophy. Things got more serious in 1907, the year he left high school, when he began an individualized, seven-year study of oriental symbolism, the New Testament in the original Greek, the Hebrew scriptures and the Kabbala. Additional early influences were Madame H.P. Blavatsky's "Secret Doctrine" and James Pryse's "The Apocalypse Unsealed." Astrology captured his interest in 1913, when he was introduced formally to the subject. "And I began to find the answers to the problem of sequence that had bothered me. That led to a number of things. The fascination was tremendous. . . . I could not break down the practical fact that what she [his mentor, Ella Woods] had was some basis other than mere intuition or psychic facility."
Astrology was to Jones of cabalistic direction and pattern. "I had a rather low opinion of the normal pattern of astrology as largely fortune-telling, predicting events, but here I suddenly discovered that I had hold of something. So I began organizing this material into what I called laws." He recognized that codification as cabalistic. Jones differentiated this cabalism from the Hebrew Kabbala, although it was mutually inclusive, defining it as a "blending of head and heart, of the rational realization and instinctive feeling. It's a blending of these, so that neither is ever without some presence of the other."
Or in an alternative refinement: "The cabala in essence . . . is the bringing of poetry and philosophy into a harmonious working together, and the whole essence of the cabalistic understanding or teaching is to achieve that for the individual."
Cabalism became the keystone of the Sabian Assembly, an experimental philosophical and psychological research group which formed around Jones in the 1920s. "It just sort of developed on a topsy-like pattern," Jones said. His highly refined interests in astrology and the occult attracted a group of seekers and inspired classes which began in December,1922, at Jones' New York residence. Later in California, the Sabian Assembly would emerge from classes conducted by Jones at Manly Palmer Hall's Church of the People in Los Angeles.
The Sabian Assembly has been in continuous existence since October 17, 1923. Selection of the title Sabian, formally adopted in January, 1928, proved fortuitous on a number of counts. "The students themselves picked the word Sabian, which was lucky because it afterward turned out that the Sabians were a Mohammedan group, and nobody knew just what they were. It is not a historically legitimate word for what we do, but it's a good substitute, and it did represent people who were interested in what was then astrology. Later Jones would derive the word from the Hebrew phrase "Yahweh Saboath," Lord of Hosts, referring to the hosts as the potentialities or basis of all study in the Sabian work and calling it a convenient term for the pre-Biblical Mesopotamian mysteries in "lieu of the much abused terms Chaldean and Magian." Significantly, the Koran entitles Sabians, Christians and Jews to tolerance.
The proportion of astrologically to philosophically oriented students was then about 50-50, a rough ratio that prevails today with the interweaving interests and techniques complementing each other. There are separate lesson series for astrology students in addition to regular weekly issues of philosophy and Bible studies. A further detailing of the Sabian Vision, The Work, The Group, and The Lessons may be referenced elsewhere on this home page.
Dr. Marc Edmund Jones, 91, left this plane of existence on March 5, 1980, the group and the work his legacy and with this thought: "My personal contribution, of course, is a once-and-for-all matter to serve as groundbreaking or foundational work on which others can build their own characteristic way in their orientation to a world that continues to change as a necessity of its existence."
Copyright © 1993 by Jonas R. Mather
All Rights Reserved

Sabian.org