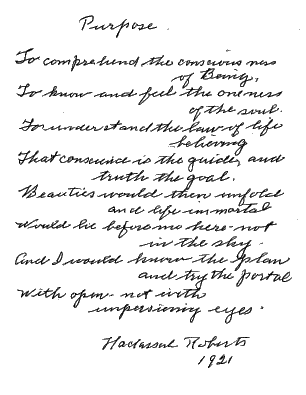 Purpose

To comprehend the consciousness of being,
To know and feel the oneness
of the soul.
To understand the law of life
believing
That conscience is the guide, and
truth the goal.
Beauties would then unfold
and life immortal
Would lie before me here — not
in the sky.
And I would know the plan
and try the portal
With open -- not with
unperceiving eyes.


Hadassah Roberts
1921

Hadassah Roberts (March 17, 1895 - June 26, 1996) was a never-to-be-forgotten member of the Sabian Assembly, the Theosophical Society and Parastudy. She was instructed to write her purpose in 1921 and the poem "Purpose" was her response. Years later the Theosophical Society honored it with an award.

Sabian.org