A Wedding Blessing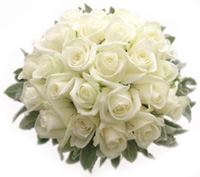 by Rusty Smith Carnarius
Health is Well-Being
May your bodies always be the dwelling place of the love and the joy that you each feel today as, hand in hand, you look fearlessly towards your future together. Remember this sense of vibrant energy and bring it to the service of your daily living.
Radiate well-being.
Wealth is Endless Resource
May you always have EVERYTHING you need in each moment of your specific need for it. And may this day with its wealth of love and good wishes, which are given unstintingly by your families and your friends to surround you and support you, stand forever as a personal definition of richness.
Use your resources generously.
Happiness is Sharing
May you continuously cherish one another so that each of you, feeling fulfilled and filled full, can walk your individual paths bringing to others that which you have found of gentleness, humor, and security through your marriage.
Continue sharing.
Understanding is the Wellspring of Hope
Everything about us is always in a state of becoming. Help it to become better than it was when you found it and your relationship will, in its turn, bless your world.
Embrace the hopeful.
I ask this in the name of All That Is, in which we as children of all faiths and persuasions live and move and have our Beingness. Amen.
« Previous Poem
|
Next Story »

Sabian.org