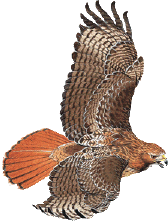 Heavy Hawk II
by Lloyd Haft
That he has been in light binds him
home to the circle, ever aloft and going wherever a dawn's faint ray finds him,
held to his height, orbiting his knowing
as so many rivers under his straining quills,
so many fading shells lying broken
over the valley that his shadow fills,
every break one breath's token.
How could he fall, and leave the glint behind
that singed his feathers into spreading wider, waiting harder, lone enough to find
home in what finally lifts the truth-rider
out of the wind and into farther birth,
tracing a coming ring around the earth?
« Previous Poem
|
Next Story »
Copyright © 1997 by Lloyd Haft
All Rights Reserved
Lloyd Haft, born in Wisconsin in 1946, has lived in The Netherlands since 1968. He is Associate Professor of Chinese Literature at Leiden University. His publications include Pien Chih-lin: A Study in Modern Chinese Poetry (Foris Publications, 1983) and (together with Wilt Idema) A Guide to Chinese Literature (to be published in the summer of 1997 by the Center for Chinese Studies, University of Michigan, Ann Arbor). Haft's poetry, in both Dutch and English, has been published in six volumes by Querido of Amsterdam. The bilingual collection Atlantis (1993) was awarded the 1994 Jan Campert Prize. Anthropos (1996), also bilingual, comprises 21 sonnets in Dutch and English.

Sabian.org